lifeistech
VIP DISNEY CODEILLUSION BUNDLE
Sale price Price $3,400.00 Regular price
Yours for $1,600 with code VIP400
Acquire professional coding skills while having fun in an RPG!
Codeillusion is an educational material that enables online learning of programming through self-study
What's in the Bundle
Begin Your Magical Adventure
1. Invest in Yourself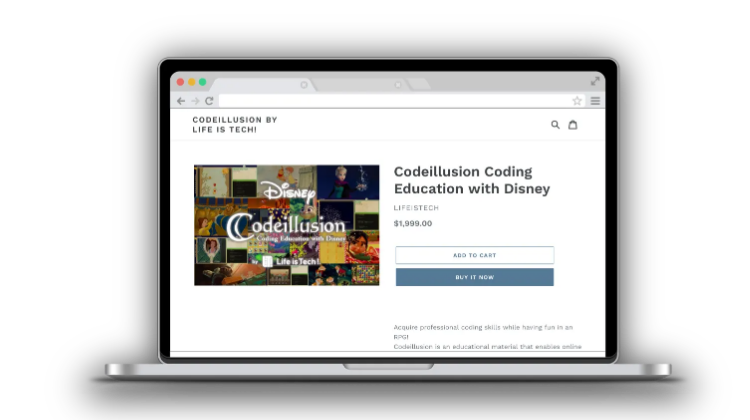 Click "Buy Now."
2. Open Your Enchanted Starter Kit Your official guide to the Disney Codeillusion, Online Login ID, and secret password will arrive at your home in less than two weeks.
3. Enter the Kingdom
Login to Disney CodeIllusion online and begin your magical journey.
Notes
Shipping Details: We will ship your enchanted Disney Codeillusion starter kit within five to ten days.
You'll hear from us with more specific shipping details within three business days.
Please check your system requirements before purchasing Codeillusion.
All orders must be delivered within the United States.
Codeillusoin does not offer refunds on opened products.
Supported OS:
- Windows 7/8.1/10 or higher
- OS X El Capitan (10.11)/macOS Sierra (10.12)/macOS High Sierra (10.13) or higher
Supported Browsers:
- Windows Chrome latest ver.
- MacOS Chrome latest ver.
Screen Resolution:
1366x768p or higher
Connection Speed:
3 Mbps or faster※ System requirements do not guarantee operation.